The Ultimate Guide to Flexible Learning in High School
April 5, 2022 at 12:10 PM
At Orange Lutheran High School (OLu), we understand that every child is a unique gift from God, and with these differences comes the necessity to provide flexibility in education to suit their individual needs.
Simply put, an all-day traditional in-class learning environment does not suit the evolving lifestyles of all our student body. Our students' lives are busier than ever and sometimes cannot be accommodated with a traditional in-class schedule. In order to serve our students best, we developed flexible learning pathways that give our students the flexibility to experience OLu in the way that suits their lifestyle, without sacrificing what makes the OLu High School experience fulfilling and exciting.


What does flexibility in education look like at OLu?
While most students come to OLu for the on-campus experience, some students come to us looking for flexibility to accommodate their busy schedules that keep them off campus during traditional school hours.
We have found that there are many different reasons why a student desires a non-traditional flexible schedule. Some examples include:
Shifting schedules based on season of sport (heavy Fall / light Spring, light Fall / heavy Spring)
Elite athletes whose participation requires frequent travel for coaching, games, competitions, etc.
a career in acting that requires traveling for auditions and jobs
Elite musicians or artists who practice during traditional school hours or who frequently travel for performances, etc.
students that want to attend Orange Lutheran with a significant commute. Flexible schedules and start times allow students to travel to school in off-peak hours.
any other extracurricular activity that keeps them busy during and after traditional school hours
Students who prefer a mix of traditional and blended coursework.


For an overview of learning options at OLu, click here.


To suit the evolving needs of our students and families, OLu set out to develop multiple unique pathways in education that provide flexibility and choice for students who are unable to attend a traditional high school but still want to enjoy a full and vibrant high school experience alongside their peers.
To accommodate the need for flexibility in education at OLu we developed four learning streams for students to choose from; this is how OLu ensures every student who joins our community experiences all we have to offer but learning is delivered in a manner that suits their lifestyle and does not compromise on academic challenge.
Here's what flexible learning looks like at OLu.


On campus learning
Full-time on-campus learning is the format most familiar to families as it is the traditional educational setting we've experienced for decades. This tried and true approach is enhanced by OLu's investment in world-class facilities, our fully equipped classrooms and specialty classrooms, and teachers and support staff dedicated to fostering a Christ-centered environment for our students.
Students taking classes on campus get to experience our beautiful campus in Orange, California, and are welcome to participate in the numerous opportunities for co-curricular learning including Mission trips, athletics, performing arts and much more.
On-campus students follow a "block" schedule consisting of up to four 75-minute class periods each day, taking # classes in total per TIME.
Full-time on-campus students are welcome to take HyFlex courses and design their schedule to include as much flexibility as they desire. HyFlex courses are a personalized learning experience designed to encourage one-on-one interactions between student and teacher but are delivered in a fun and flexible manner.
HyFlex courses can be a great transition option for students interested in online learning and want to test the waters. For more information on how to help your online learner and set them up for success, click here.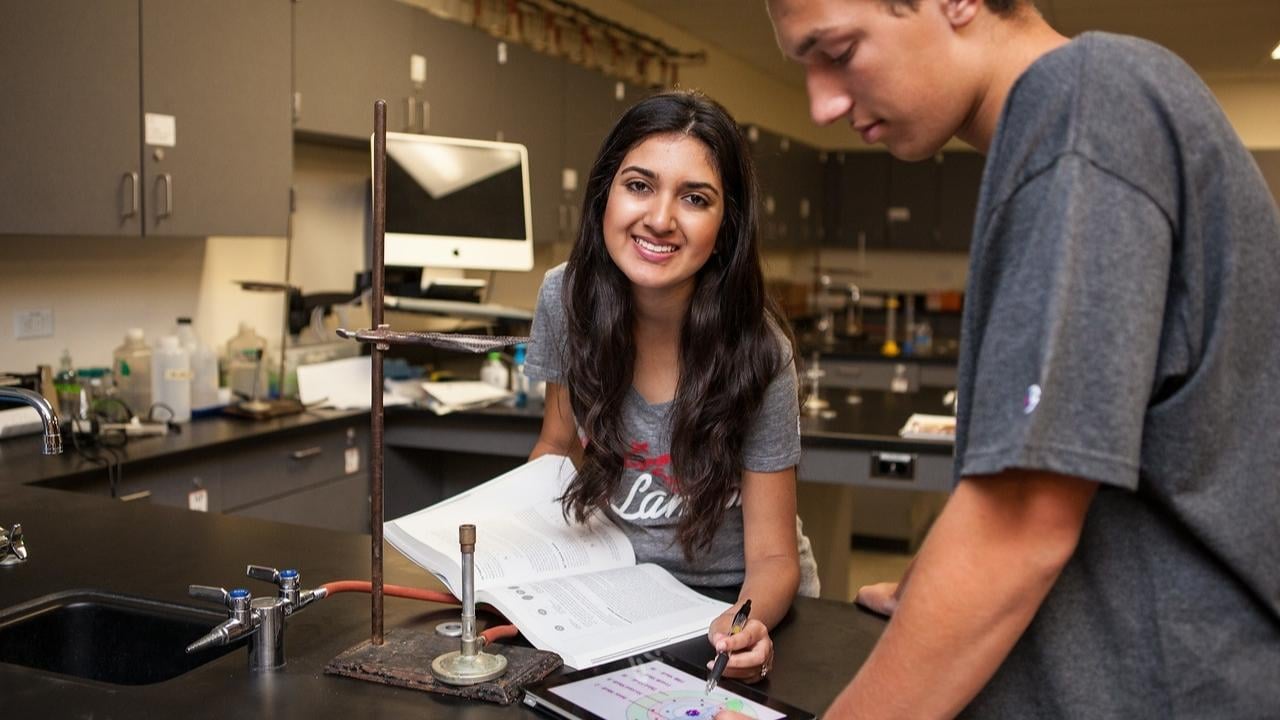 The best way to discover Orange Lutheran and the private Christian High School education we offer is to experience it with a personalized on-campus tour.
Blended Learning | Orange Lutheran Online Learning
This is where OLu's delivery of flexibility in education truly shines. OLu Blended Learning offers students who require varying degrees of accommodations full control over the amount of flexibility they need woven into their schedules while still taking part in in-person classes. With three Blended options to choose from, students can design a schedule that works for them.
Unlike Zoom classes that have become popularized due to safety concerns during COVID, all courses available via Orange Lutheran Online (OLO) are asynchronous, which means there are no live lectures to watch. Instead, students have the opportunity to absorb course material at a time that is convenient for them, and at a place that is convenient for them.
To offer even more flexibility within the Blended Learning Program and to ensure all students are connected to appropriate resources and guidance as necessary, we created three pathways for Blended Learning, each with a unique configuration optimally designed for maximum satisfaction from our students.
Blended 1
Blended 1 students take all of their classes online but one, and this one on-campus course opens the doors to full access to all on-campus facilities, resources, and activities.
Blended 1 can be an excellent choice for students in the area who want access to OLu's campus but have a cumbersome commute.
Blended 2
Blended 2 is similar to Blended 1 but Blended 2 students take two classes on-campus.
Blended 2 can be an excellent choice for students who want increased participation in on-campus learning but are still afforded all the benefits and convenience of online learning.
Blended 4
Blended 4 students can take up to four classes on-campus with the remainder taken as online classes.
Blended 4 is a great option for students who want a balance of online and in-class courses.
"That's the beauty of the online program. We try to meet students where they are with what they need. Whatever combination of online classes and on campus they need, we have designed a program for them." - Cindy Schlichtemeier, OLO Academic Advisor.


Discover 7 ways OLu supports blended learners here.
HyFlex Learning | Orange Lutheran Learning
HyFlex, short for hybrid-flexible learning, are courses uniquely designed to integrate in-person learning with independent study; this gives our students independence and ownership of their learning while enjoying the benefits of access to a teacher for support.
Each HyFlex course is designed per each student and is formatted to provide increased opportunities for one-on-one interactions between student and teacher.
Through Orange Lutheran Online (OLO), Blended students enjoy on-campus courses paired with online course work; much like full-time on-campus students, Blended students have access to facilities and services.
Curious about what your child's online schedule could look like? Learn more about OLu's Blending learning schedule options and how your child can enjoy a flexible, faith-based high school experience here.
All OLO core classes are UC and NCAA approved; this accreditation should be considered the "gold standard" in online courses, as not all online courses are held to the same rigorous academic standards. This approval means your child will be able to apply to any U.S. university without concern regarding graduation requirements. Learn more about how OLu can help your child earn an acceptance to a Division 1 universities.
At OLu, we love to celebrate the accomplishments of our students. Explore what Signing Day looks like at OLu and how we honor the incredible achievements of our student athletes.
Full-time online
With over 20 years of experience teaching in an online environment, OLO is the perfect place for students who come to OLu requiring complete flexibility over when they can do their school work, be it due to a career in performing arts, athletics, medical issues, or other personal reasons. OLu sought to develop a system so these students can still experience a Christ-centered education but have it be delivered in a way that accommodates their busy schedules.
What makes OLu's flexible learning pathways unique? Discover the differences here.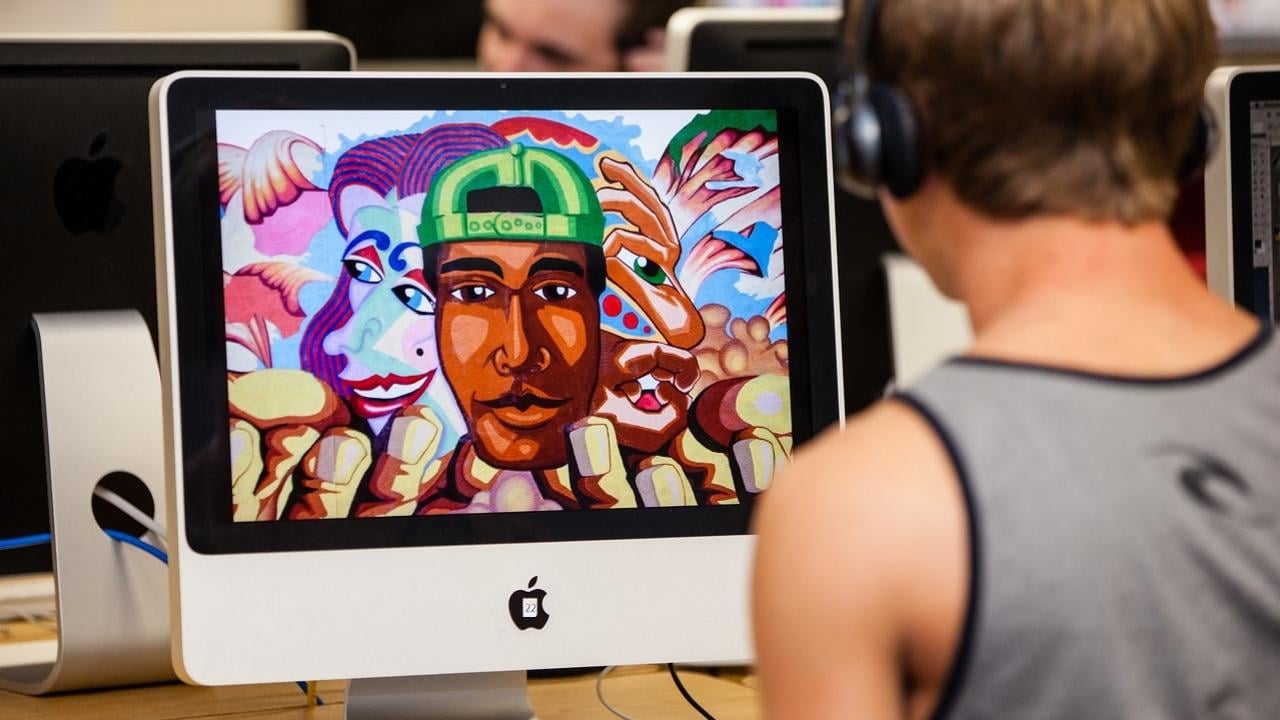 COVID rapidly introduced online synchronous learning to the general population, but the oftentimes disappointing, confusing, and overwhelming experiences has pushed many families to seek alternative options for their children.
Working in conjunction with Orange Lutheran Online (OLO), online students study asynchronously, with no live content to watch or classes to attend. This provides students with the ability to work on schoolwork at any time and from anywhere around the world.
"The students can do the things they want to do in their life that they're passionate about or they're skilled at and are trying to accomplish great things in but also, do school. And so with online learning, they're able to do both and to do both well." - Cindy Schlichtemeier
OLu is dedicated to sharing Christ's love with all of God's children, providing over $3.5 million in need-based financial aid annually. Learn more about financial aid options here.
Much like in every learning option available at OLu, full-time online students in and around the Orange, California area are welcome to use the campus facilities, to take part in co-curricular activities, and attend campus events alongside their on-campus peers.
Going from a traditional classroom setting to studying independently online can be a big change for some students. Learn how OLu helps Blended students transition into successful independent learners.
Students taking online courses are never left to their own devices. All online students are supported by an Academic Advisor and in-house Tech Support to provide assistance in real time and make sure they stay on track for their goals. Their availability is made aware to students who are free to reach out for support. Students taking online courses are strongly encouraged to maintain open communication with their OLO support team as it's one of the best ways to stay on course towards their goals.
Curious about what a day looks like in the life of a full-time online student?
Welcoming International Students
At OLu, we understand that our diverse world is a gift from God, which is why OLu opens its doors to international students seeking an American, faith-based education.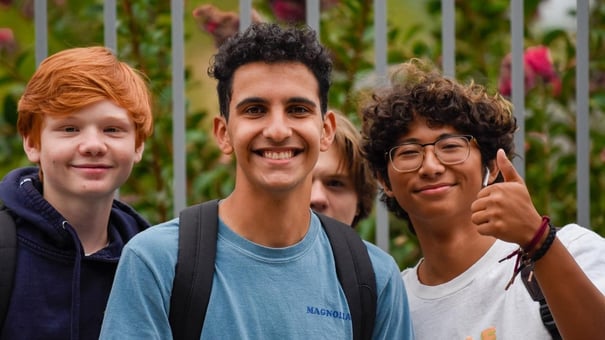 International students at OLu are supported by an International Admissions Officer during the admissions process, followed by an International Student Counselor during their time at OLu. Additional English language support is available to students who require it.
Just like every other student in the OLu community, international students can partake in all school activities, and can create an exciting American high school experience for themselves.
Interested in joining Orange Lutheran as an International student?
Orange Lutheran's Accreditations
OLu's many accreditations, associations and international connections mean your child will have access to resources that extend far beyond OLu.
Whether they take a class online or on campus, they will be four-year college ready with the curriculum available at OLu. Learn more about everything that makes OLu an elite and prestigious school here.
Busting Myths About Online Education
Online learning has a number of benefits, particularly for students who cannot attend campus in a full-time capacity. But for some parents, the prospect of their child studying high school online can be a cause for concern; this is an unfamiliar environment for many parents and a lot of misinformation circulating has led to some misgivings.
Myth 1:
Online learning is a separate entity from traditional learning, meaning students don't receive the same quality in education.
OLu provides all of our students with social opportunities, even off campus students. Find out more about how OLu can help your Blended learner experience a vibrant social life.


Myth 2:
Online learning students are isolated from their peers and are socially disadvantaged.
Even students that live further away from campus are encouraged to attend events, and some may benefit from OLu's additional transportation services.
Myth 3:
Teachers are less responsive to online learning students, forcing students to teach themselves.
What are the characteristics of a teacher at OLu? Learn more about the qualities and qualifications we seek out in teaching staff here.


Myth 4:
Cheating/dishonesty run rampant in online learning environments.


Myth 5:
Online learning students (and families) must be technologically advanced to participate.
Want to learn more about online learning? Demystify common assumptions that plague online learning to this day here.


Topics from this blog: Academics
Back